The last of Wilmar's mills has crushed out, bringing the 2022 season to a close.
The last cane was crushed at Proserpine Mill at 9.12am yesterday.
Our eight factories processed a total of 16.08 million tonnes of cane to make about 2.03 million tonnes of raw sugar.
Here is a regional snapshot of the 2022 crush.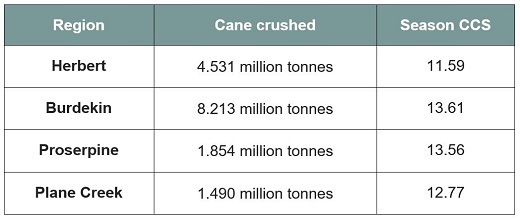 The 2022 season was particularly challenging, and I'd like to thank all growers and harvesting contractors for your hard work and perseverance.
Our crews are now focused on implementing a large maintenance season program over the coming months.
Wilmar is maintaining a high level of investment in its mills and cane supply network, with more than $200 million being spent on maintenance and capital replacement projects in 2023.
Thank you once again for your cooperation and we look forward to working with you again in 2023.
PAUL GIORDANI
General Manager - Cane Supply and Grower Relations