Sustainability is a critical part of our Wilmar BioEthanol business. Our ethanol is made from molasses – a 100% Australian renewable feedstock derived from the sugar making process.
As the diagram below shows, our ethanol manufacturing process is part of a renewable cycle. Molasses is distilled at our Sarina Distillery to produce ethanol and a co-product, called dunder. Our AgServices business uses dunder to make a range of liquid fertiliser and stockfeed products. The liquid fertilisers are applied to paddocks throughout North and Central Queensland to help grow the next crop of sugarcane, thereby starting the renewable cycle again.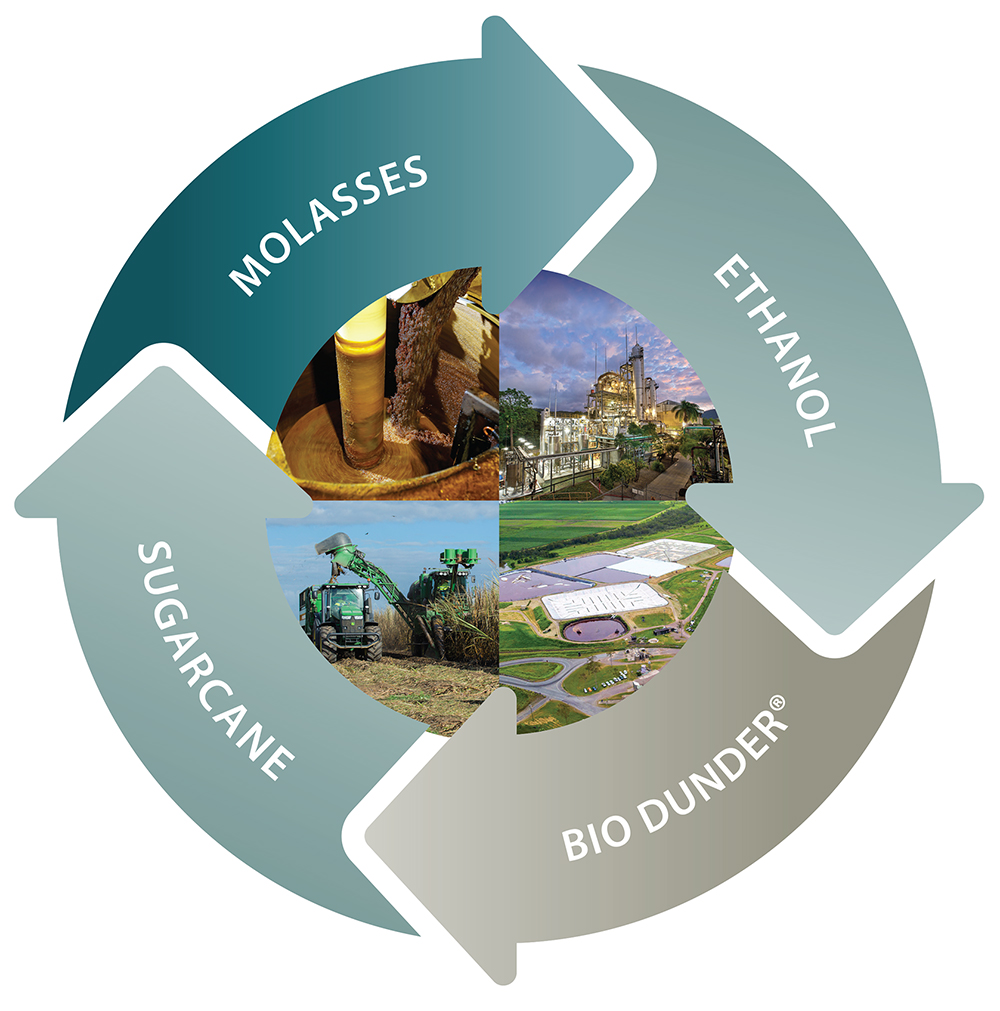 We're registered with a number of internationally recognised accreditation organisations, including Sedex and EcoVadis. We are audited regularly to ensure we comply with supply criteria set by major international customers.
For products that we source, we conduct regular supplier audits and make this information available to our customers. We know sustainability is important to our customers and want to equip them with the knowledge they require to make informed decisions about what products best meet their consumers' growing expectations around sustainability and safety standards.
Fuel sustainability
The bioethanol we produce for fuel markets must comply with national fuel standards and various state mandate sustainability requirements.
The Queensland biofuels mandate includes a number of sustainability requirements for ethanol producers. This ensures the raw materials and processes used during the manufacturing process comply with best practice and do not negatively impact the local environment. For Wilmar BioEthanol, this means sourcing molasses derived from cane farms employing best management practices, and ensuring that our manufacturing facility operates in a safe and environmentally sustainable way.
In working to comply with the requirements of various state government mandates, we have also achieved the globally recognised Roundtable of Sustainable Biofuels (RSB) certification.
Oleochemical sustainability
Our oleochemicals are predominately made from natural palm oils. Many of Wilmar's manufacturing plants in South East Asia are certified to manufacture RSPO products on customer requests. Wilmar International takes its sustainability responsibility seriously and has had a formal policy in place for several years.
Organic products sustainability
A number of the products we sell come with organic certification. Each product must meet the relevant certifiers' sustainability criteria to maintain certification. Information about the relevant sustainability criteria for each of our organic products can be provided upon request.
For more information about our commitment to sustainability, please contact our customer service team on 1800 819 618 or via the online contact form.